Payment
To complete your registration, please use the button below to pay securely online with our vending partner, PayPal. You do not need a PayPal account (just click the "Pay with Debit or Credit Card" option), and none of your credit card information will be shared with us.
Please ensure that popups are not disabled for this page. The PayPal payment opens in a popup window, but if it is blocked then this page will redirect and your registration will be lost.
Please ensure that you do not close the popup window. It will close upon completion and will return your payment confirmation to this page, which will then submit your registration. Only then will your registration be complete.
Processing registration and payment
This should only take a few seconds...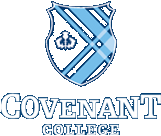 The mission of Covenant College is to explore and express
the preeminence of Jesus Christ in all things. We offer the world biblically
grounded men and women equipped to live out extraordinary callings in ordinary places.
14049 Scenic Highway, Lookout Mountain, Georgia 30750
|
706.820.1560